Product Description
The great new way to brush plate small parts
Video:
Title
Using The Caswell Plug N Plate Brush Plating Kit
Read An Article From Mac Life Magazine On Plating An iPod Using Our Plug N' Plate® Kits (372 KB PDF)
Read the Instruction Manual Here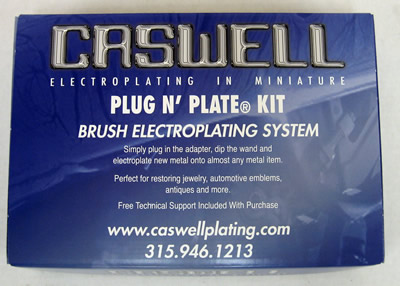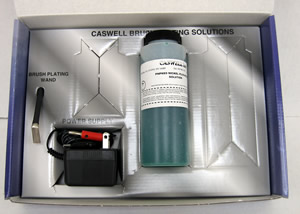 4 Simple Steps To Brush Plate Your Small Parts
| | |
| --- | --- |
| 1. Plug In The Adapter | |
| 2. Clip the Black Lead To The Part | |
| 3. Soak The Wand With Bandage In the Solution | |
| 4. Brush The Wand Over The Cleaned Part | |
Plug N' Plate® is a new concept in plating small parts. Our unique mains power pack supplies just the right amount of power allowing you to brush, and in some situations, dip plate your smaller components.
The Plug N' Plate® system will also allow you to patch repair areas where the original plating has worn away.
Plug N' Plate® is ideal for vintage vehicle restorers, antique collectors and dealers, and small workshops doing prototype work.
What could be simpler? The Plug N' Plate® wand is attached to the red plug on the Power Pack, and the alligator clip is attached to the work-piece. The end of the wand is covered in an absorbent bandage, which is soaked in the plating solution for a few seconds.
By simply stroking the part with swift brush strokes, the circuit is closed and the plating metal bearing solution goes to work, depositing its beautiful layer onto the object.
Plug N' Plate® is perfect for gold plating car emblems. Simply strip the chrome off with Chrome Stripper, then apply the gold. Full instructions are included.
Plug N' Plate® may be applied onto most metals. To see which kit plates onto which metal, read our instruction booklet. To plate onto Stainless Steel, use the Plug N' Plate® Copper system. When gold plating onto stainless, apply our Stainless Steel Activator For Gold with a stainless wand and 4.5V power pack, then you may gold plate directly onto the stainless part.
Aluminum can be plated with the Acid Copper Plug N Plate system, after prepping your part with Zincate.
Plastic parts can also be plated with our Acid Copper Plug N Plate system after painting with conductive paint and swabbed with Tinning Solution.
* - Manufacturer Direct Pricing. Plug N' Plate® is a registered trademark of Caswell Inc.
Plug N Plate Black Nickel Kit Contains:
1 x Plug N' Plate® 4.5V Power Supply
1 x 8oz Black Nickel Solution
1 x SS Brush Plating Wand
1 x Wand Bandage
1 x Instruction Booklet
Free Technical Support

Recommended Skill Level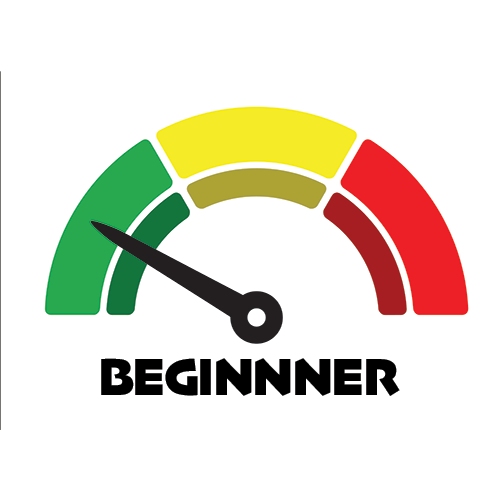 Beginner level products can and should be used by anybody, including those who consider themselves not crafty, handy or hands on. Most beginner level products can be used out of the box and can expect results within minutes. It is always important to read the product instructions and description on the web site before use, for example, nearly all of our plating kits require a polished and clean surface before plating.
Safety Information
WARNING: Cancer or birth defects -
www.P65Warnings.ca.gov
GHS Info



SDS
Kits may contain more SDS than listed here. Contact us for details
Product Videos
Product Reviews
Important Information
Additional Equipment May Be Required
For Our Tank Plating Kits:
Copper Pipe for tank bar
Copper Wire to hang items
Small amount of electrical wire to make connections
DC Power Supply - Included In Some Kits. Check kit contents on web site
Optional Rinse Tanks (or rinse over the plating tanks with a water bottle)
Other minor household items may be required, such as gloves, water etc.
For Our Anodizing Kits:
DC Power Supply (Standard Kit Only)
1 Gal Battery Acid
Dyes (if desired)
Optional Rinse Tanks (or rinse over the plating tanks with a water bottle)
Other minor household items may be required, such as gloves, water etc.
Learn More Before Buying
You can purchase our Caswell Plating Manual and learn how to use the kits, before purchasing a kit. Simply Order Here. When you are ready to buy, we will discount the price of the kit.
Already Have Our Plating Manual?
If you are ordering a plating kit that contains our Plating Manual, and you already have our Plating Manual, you can remove it from all kits that contain it and save $30 per kit. Just use Coupon Code NOMANUAL in your Shopping Cart at checkout.