Product Description
The Caswell Plating Manual
Now Version 10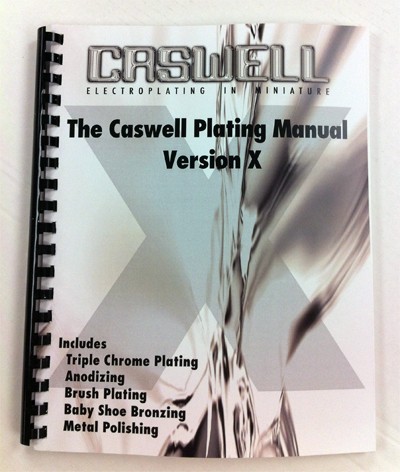 GUARANTEE
We guarantee our manual to be the VERY best on the market for a miniature plating operation. If you can show us one better - we'll refund your money!
Version 10 of The Caswell Plating Manual has been completely revised. Each section now contains an easy to follow chart outlining the steps involved during the process.
It is without doubt, the most advanced 'how to' plating book available today. Containing over 180 pages, it specifically addresses the problems of plating on a small scale, and wherever possible employs the "Keep It Simple" formula. Standard plating techniques such as nickel and copper plating have been upgraded, and there are many new systems discussed, such as tin plating, boron nitride and black krome.

Detailed instructions on how to hard chrome plate tool tips, gives the novice a completely new perspective to his workshop. The anodizing section shows how to 'splash color' anodize (just like the way paint ball guns are done), using a new range of Caswell dyes.

There is an excellent section on bronzing things like baby shoes, and another on plating glass tableware. Brush plating with Plug N'Plate™ kits is an inexpensive technique for doing small local repairs or to gold plate those car emblems, or that old fob watch.

New antiquing solutions provide a whole spectrum of effects.

Chrome and Anodize stripping techniques are thoroughly discussed, as are new concepts for plating lead work, which is must for fishing lures, sun catchers and stained glass manufacture.

Finally a whole chapter on environmental issues, demonstrates the effective reduction of waste, its disposal and emissions, and the EPA requirements.
Customer Testimonial
I sat down and actually read your entire plating manual last night and this morning. It is very informative. I feel like a plating expert and I haven't even started plating yet!
You did a very good job putting together the manual. I went from knowing nothing about plating to believing that I can make a go of this business.

James Watson
$30 of the cost of the manual is refundable when you purchase any plating kit that contains the manual.

Safety Information
Product Videos
Product Reviews
Caswell Plating Manual Version X

Very well put together with lots of good information for the beginning plater. Plenty of troubleshooting tips & steps to perform proper plating.

The Caswell Plating Manual is very informative and written in a way that it easy to understand, even for beginners such as myself.

Very informative

I am extremely pleased with my order from Caswell and intend to order again. Thanks, Terry Trembly

This is a great resource for people who, like me, know little about plating but want to learn. I expect it's an excellent guide even for people with some experience in the field. It's certainly worth every penny of it's low price.
Important Information
Additional Equipment May Be Required
For Our Tank Plating Kits:
Copper Pipe for tank bar
Copper Wire to hang items
Small amount of electrical wire to make connections
DC Power Supply - Included In Some Kits. Check kit contents on web site
Optional Rinse Tanks (or rinse over the plating tanks with a water bottle)
Other minor household items may be required, such as gloves, water etc.
For Our Anodizing Kits:
DC Power Supply (Standard Kit Only)
1 Gal Battery Acid
Dyes (if desired)
Optional Rinse Tanks (or rinse over the plating tanks with a water bottle)
Other minor household items may be required, such as gloves, water etc.
Learn More Before Buying
You can purchase our Caswell Plating Manual and learn how to use the kits, before purchasing a kit. Simply Order Here. When you are ready to buy, we will discount the price of the kit.
Already Have Our Plating Manual?
If you are ordering a plating kit that contains our Plating Manual, and you already have our Plating Manual, you can remove it from all kits that contain it and save $30 per kit. Just use Coupon Code NOMANUAL in your Shopping Cart at checkout.