Product Description
Plug N' Plate FastGold 18K Kit
The great new way to brush plate small parts
Video:
Title
Using The Caswell Plug N Plate Brush Plating Kit
Read An Article From Mac Life Magazine On Plating An iPod Using Our Plug N' Plate® Kits (372 KB PDF)
Read the Instruction Manual Here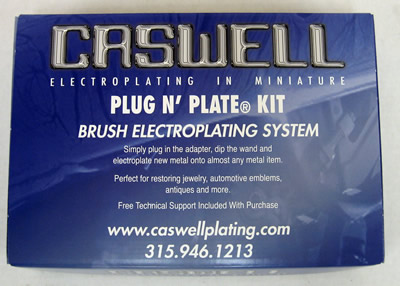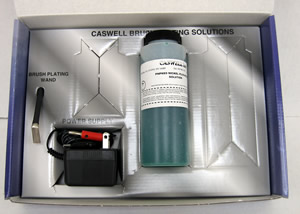 4 Simple Steps To Brush Plate Your Small Parts
| | |
| --- | --- |
| 1. Plug In The Adapter | |
| 2. Clip the Black Lead To The Part | |
| 3. Soak The Wand With Bandage In the Solution | |
| 4. Brush The Wand Over The Cleaned Part | |
Plug N' Plate® is a new concept in plating small parts. Our unique mains power pack supplies just the right amount of power allowing you to brush, and in some situations, dip plate your smaller components.
The Plug N' Plate® system will also allow you to patch repair areas where the original plating has worn away.
Plug N' Plate® is ideal for vintage vehicle restorers, antique collectors and dealers, and small workshops doing prototype work.
What could be simpler? The Plug N' Plate® wand is attached to the red plug on the Power Pack, and the alligator clip is attached to the work-piece. The end of the wand is covered in an absorbent bandage, which is soaked in the plating solution for a few seconds.
By simply stroking the part with swift brush strokes, the circuit is closed and the plating metal bearing solution goes to work, depositing its beautiful layer onto the object.
Plug N' Plate® is perfect for gold plating car emblems. Simply strip the chrome off with Chrome Stripper, then apply the gold. Full instructions are included.
Plug N' Plate® may be applied onto most metals. To see which kit plates onto which metal, read our instruction booklet. To plate onto Stainless Steel, use the Plug N' Plate® Copper system. When gold plating onto stainless, apply our Stainless Steel Activator For Gold with a stainless wand and 4.5V power pack, then you may gold plate directly onto the stainless part.
Aluminum can be plated with the Acid Copper Plug N Plate system, after prepping your part with Zincate.
Plastic parts can also be plated with our Acid Copper Plug N Plate system after painting with conductive paint and swabbed with Tinning Solution.
* - Manufacturer Direct Pricing. Plug N' Plate® is a registered trademark of Caswell Inc.
Plug N Plate FastGold Kit 24K Contains:
1 x Plug N' Plate® 4.5V Power Supply
1 x 4oz FastGold 18K Solution
1 x SS Brush Plating Wand
1 x Wand Bandage
1 x Instruction Booklet
Free Technical Support

Safety Information
WARNING: Cancer or birth defects -
www.P65Warnings.ca.gov
GHS Info

SDS
Kits may contain more SDS than listed here. Contact us for details
Product Videos
Product Reviews
Sharing my secrets for 5-star results

Fastgold works wonderfully, but there are ways to make it work better. I've been through a couple thousand dollars worth of fastgold over the years, and through experimentation I've found ways to make it work better for me. I'm feeling generous so I'll share my secrets today. I usually plate over silver, either solid sterling silver or silver-plated copper-Nickle alloy. I plate about 1-2 square inch segments on a larger 12 square inch item. Electrode is attached about 3 inches away from the segment to be plated. The part is highly polished, and wiped clean with ipa. I've ditched the included wall wart power supply, and instead I've cut off the wires and attached them to an adjustable DC Power Supply so that I can adjust voltage and amperage to a very precise amount. Caswell does sell these. I found that the recommended 4.5v was way too high for what I was plating. It quickly resulted in a chalky dark olive color, which needed to be extensively polished off and yielded poor results. My best results come at just 1.7v and it plates a beautiful 18K gold color without hardly any burning. This solution plates so fast that you need very low voltage. (You'll need to experiment on the material you plate on, and also based on the size of the item). By using an adjustable DC power supply you can experiment and get the ideal voltage for your application. Expect it to me lower than you think. After one good, very wet brush plating of 3-5 minutes evenly coating gold, I rinse and wipe vigorously with a clean microfiber cloth to remove the very small amount of burning / chalky darker coating that has resulted, until completely smooth and glossy. This changes the color from slightly-dull copper-color to a more bright orange-gold color. I clean it with ipa and repeat the plating process for a second coat, and then wipe/polish with the clean soft microfiber to finish. I get a very good durable gold plating with great even color. I save my leftover solution, now dark and cloudy, (I use a tall clean shot glass with 2-3ml of fresh solution each time) by pouring it into a spare container. This leftover solution can be used just like fresh solution in the future, but the plating will burn a little bit more than with fresh solution, still manageable at 1.7v but I have to polish with the microfiber a little bit harder, faster, and takes a bit longer. I leave the bandage on the wand without cleaning it or rinsing it. It dries crusty but I revive it every time I plate by soaking it in the fresh solution in the shot glass for a few minutes before plating. I had to solder the wand and wire together for better durability. I never got better results with heating the solution or the item, voltage is more important. I calculated a cost of about $2 per square inch with this method. Cheap enough to offer a long warranty on my service.
Important Information
Additional Equipment May Be Required
For Our Tank Plating Kits:
Copper Pipe for tank bar
Copper Wire to hang items
Small amount of electrical wire to make connections
DC Power Supply - Included In Some Kits. Check kit contents on web site
Optional Rinse Tanks (or rinse over the plating tanks with a water bottle)
Other minor household items may be required, such as gloves, water etc.
For Our Anodizing Kits:
DC Power Supply (Standard Kit Only)
1 Gal Battery Acid
Dyes (if desired)
Optional Rinse Tanks (or rinse over the plating tanks with a water bottle)
Other minor household items may be required, such as gloves, water etc.
Learn More Before Buying
You can purchase our Caswell Plating Manual and learn how to use the kits, before purchasing a kit. Simply Order Here. When you are ready to buy, we will discount the price of the kit.
Already Have Our Plating Manual?
If you are ordering a plating kit that contains our Plating Manual, and you already have our Plating Manual, you can remove it from all kits that contain it and save $30 per kit. Just use Coupon Code NOMANUAL in your Shopping Cart at checkout.