Product Description
Triple Chrome Plating Kit - 15 Gal
15 Gal Triple Chrome Plating Kit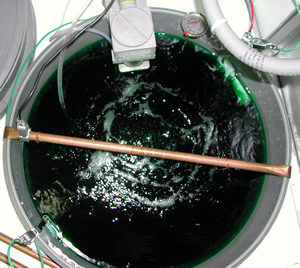 Kit comes with rectangular tanks 12W x 24L x 18H
Watch How To Use This System - Full DVD Included In Kit
This kit has been especially designed for the smaller workshop requiring high quality Chrome plating facilities for small to medium sized parts. It is ideally suited to operate as a small business venture, plating automotive and motorcycle parts.

The kit is supplied with 2 rectifiers, the smaller one, a 25 amp capacity, is designed to operate the copper and nickel plating tanks, with a maximum capacity of approx 300 sq. inch surface area.

Amperage requirements for copper and nickel plating are approximately 1 amp per 15 square inches of surface area.
| | |
| --- | --- |
| The larger rectifier, supplied by Aldonex Inc, is a 250 amp capacity, specifically designed to control the higher demands of the Chrome Plating tank. | |
Amperage requirements of chrome plating are 1+ amps per square inch of surface area.
The 6 tanks supplied are constructed of HDPE, a chemical resistant plastic. They come with a lid to ensure tanks are completely safe and sealed when not in use. Dimensions are:- 12W X 24L X 18H
The Kit Contains:-
1 x 250 Amp Rectifer
1 x 25 Amp Rectifier
6 x 20 gal Plastic Plating tanks withlids
2 x 18" x 20" Nickel Anodes and bandages
2 x 18" x 20" Copper Anodes and bandages
4 x 12" x 12" GP Plates
4 x 12" x 12" Chrome Anodes
10 Packs Nickel Crystals with Brightener (Makes 15 Gals)
10 Packs Copper Crystals (Makes 15 Gals)
10 x 1.5oz Copper Brightener A
3 x 4oz Copper Brightener Part B
10 Cans Chrome Crystals with Catalyst (Makes 15 Gals)
Flash Copper™ Part A - 20 Quarts
Flash Copper™ Part B - 5 Quarts
Flash Copper™ Part C - 5 Quarts
SP Degreaser 8 lb (makes 16 gals)
6 Filter/Agitator Pumps (2 Each For Nickel, Copper & Flash Copper™ systems)
The Caswell Plating Manual
How To Video/DVD
Fume Control Balls
Rectifiers have a 1 year limited warranty.
Not available to residents of California unless an appropriate permit has been obtained. Use Reprochrome® instead.
Contains Hazardous Goods. Shipping restrictions apply. Ground shipping only to the Continental USA. Please call +1 315 946 1213 or contact us for rates to other locations.
Safety Information
WARNING: Cancer or birth defects -
www.P65Warnings.ca.gov
Hazardous Shipping Info



GHS Info




SDS
Kits may contain more SDS than listed here. Contact us for details
Product Reviews
Important Information
Additional Equipment May Be Required
For Our Tank Plating Kits:
Copper Pipe for tank bar
Copper Wire to hang items
Small amount of electrical wire to make connections
DC Power Supply - Included In Some Kits. Check kit contents on web site
Optional Rinse Tanks (or rinse over the plating tanks with a water bottle)
Other minor household items may be required, such as gloves, water etc.
For Our Anodizing Kits:
DC Power Supply (Standard Kit Only)
1 Gal Battery Acid
Dyes (if desired)
Optional Rinse Tanks (or rinse over the plating tanks with a water bottle)
Other minor household items may be required, such as gloves, water etc.
Learn More Before Buying
You can purchase our Caswell Plating Manual and learn how to use the kits, before purchasing a kit. Simply Order Here. When you are ready to buy, we will discount the price of the kit.
Already Have Our Plating Manual?
If you are ordering a plating kit that contains our Plating Manual, and you already have our Plating Manual, you can remove it from all kits that contain it and save $30 per kit. Just use Coupon Code NOMANUAL in your Shopping Cart at checkout.