Product Description

for Decorative Chrome
Watch How To Use This System - Full DVD Included In Kit
NOW INCLUDES ZINCATE AND ALUMINUM DEOXIDIZER FOR A COMPLETE ALUMINUM PLATING SOLUTION
A revolution in real decorative chrome plating; this new kit has special additives which widen the operating range of the system, making the system much easier for the novice to control. The only addition neccessary to the chrome system is distilled water. A small amount of battery acid is required for the copper system.
This 3 step chrome plating kit has been designed to provide a show quality nickel, copper & chrome plate on items such as headlights, bezels, bumperettes, nuts & bolts, brackets, etc. It can be applied to copper, steel, brass, aluminum, lead, pewter and zinc die cast substrates.
There are three different processes, each with its own tank & chemicals, as well as the cleaning, zincating and deoxidizing tanks. The chrome plate is always applied over a nickel plate, which will fuse to most metals quite readily. The acid copper plating system is used as a hi-build filler to cover blemishes, pits and scratches. The copper plate can be built up to thicknesses of 1/8", and Casweld™ can be used to fill in deeper pits. The solder and plate is then sanded/polished and re-plated before nickel plating. This is an invaluable tool for the restorer!
Now, with the addition of Flash Copper™ to this kit, you can plate onto Pot Metal without having to buy additional kits. Pot Metal parts are plated first with Flash Copper™. They may then be built up with the regular Copper system if desired, then nickel and chrome plated.
The included Pickle #4 solution lets you plate onto lead and pewter easily. After immersing in Pickle #4, you should plate with Flash Copper™.
Aluminum parts must be dipped in Zincate and Deoxidizer (included) solution prior to Flash Copper plating.
Lead/Pewter parts must be dipped in Pickle#4 (included) prior to Flash Copper plating.
The kit contains:
8 x 3.5 Gal Plating tanks with lids
2 x 6" x 8" Nickel anodes &bandages
2 x 4" x 8 Copper anodes & bandages
2 x 12" x 12" Chrome Anodes
2 x 8" x 8" GP Plates
2 Packs Nickel Crystals w/Brightener (Makes 3 Gals)
2 Packs Copper Crystals (Makes 3 Gals)
2 x 1.5oz Copper Brightener A
1 x 4oz Copper Brightener B
2 Cans Chrome Crystals (Makes 3 Gals)
Chrome Activator
1 x 3 gal Flash Copper™ Chemicals (A, B, C)
1 Pack SP Degreaser (Makes 4 Gals)
2 Qt Aluminum Deoxidizer (Makes 4 Gals)
2 Qt Zincate (Makes 2 Gal)
3 x Filter/pumps (For Nickel, Copper & Flash Copper Kit)
Fume Control Balls
2 Packs Pickle #4 (Makes 4 Gals)
The Caswell Plating Manual
How To DVD
Free Technical Support
| | | |
| --- | --- | --- |
| Cam Chain Tensioner Chrome Plated With This Kit By James Bateman | Kickstart Chrome Plated With This Kit By James Bateman | Engine Cover Plated With This Kit By James Bateman |
The nickel plating system will readily accept the final layer of chrome plate. The power source may be either a 6v or 12v battery or charger or a rectifier. (Get help choosing the correct rectifier) Current is regulated using bulbs, a salt-water rheostat made from 2 metal plates and a small container of salt water, or a plating rectifier.
Nickel plating process will take approx 30-60 minutes. Copper plate operation will take from 10 minutes to several hours if building up thick layers. The final Chrome plate layer takes only 4 minutes. Nickel & copper kits will plate approx. 60 square feet of surface area, before the anodes need replacing. Nickel & Copper plating require 1 amp per 16 square inches of your part.
The Chrome solution will plate over 1000sq. ft/gal of decorative chrome and for most operations should not need replacement. Solutions last over the life of many sets of anodes and are not usually disposed of. Procedures for handling these minimal quantities are outlined in the manual. Chrome plating requires 1 amp per square inch area of your part.
There are no cyanides in these systems. A system of fume control for the chrome, consisting of fume control balls is included with every kit. Full instructions for fume control are discussed in the manual.
Not available to residents of California unless an appropriate permit has been obtained. Use REPROCHROME® instead.
Contains Hazardous Goods. Shipping restrictions apply. Ground shipping only to the Continental USA. Please call +1 315 946 1213 or contact us for rates to other locations.
Recommended Skill Level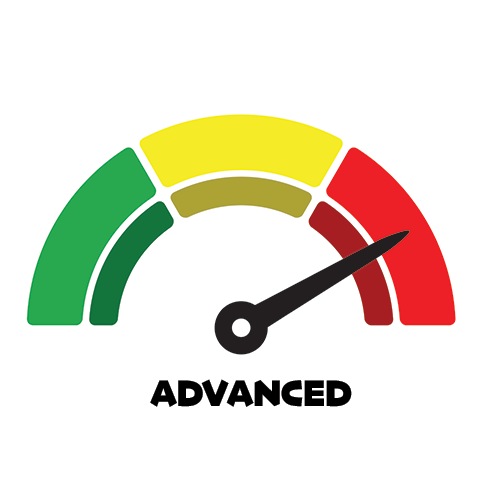 Advanced level products require multiple steps to achieve end results, such as conductive paints, or multiple cleaning steps. While many novice customers have used these products successfully in the past, we recommend some experience using easier processes before trying an advanced level product.
Safety Information
WARNING: Cancer or birth defects -
www.P65Warnings.ca.gov
Hazardous Shipping Info



GHS Info




SDS
Kits may contain more SDS than listed here. Contact us for details
Product Reviews
Important Information
Additional Equipment May Be Required
For Our Tank Plating Kits:
Copper Pipe for tank bar
Copper Wire to hang items
Small amount of electrical wire to make connections
DC Power Supply - Included In Some Kits. Check kit contents on web site
Optional Rinse Tanks (or rinse over the plating tanks with a water bottle)
Other minor household items may be required, such as gloves, water etc.
For Our Anodizing Kits:
DC Power Supply (Standard Kit Only)
1 Gal Battery Acid
Dyes (if desired)
Optional Rinse Tanks (or rinse over the plating tanks with a water bottle)
Other minor household items may be required, such as gloves, water etc.
Learn More Before Buying
You can purchase our Caswell Plating Manual and learn how to use the kits, before purchasing a kit. Simply Order Here. When you are ready to buy, we will discount the price of the kit.
Already Have Our Plating Manual?
If you are ordering a plating kit that contains our Plating Manual, and you already have our Plating Manual, you can remove it from all kits that contain it and save $30 per kit. Just use Coupon Code NOMANUAL in your Shopping Cart at checkout.