Product Description
Blackens steel and iron parts (not stainless steel). Parts must be sealed after blackening. Use our Penetrating Sealer or Caswell Sealer.
Mix 1 part Concentrate with 9 parts distilled water. 1 pint of concentrate makes 1.25 gallons of blackening solution. Parts Coverage - 600 to 1200 sq. ft. of surface area blackened per gallon of concentrate.
Immerse the part in the mixed Black Oxide Solution and swirl around for between 30 seconds and 5 minutes. Alternatively, the part may simply be placed in the solution for 5 - 10 minutes. Remove the part from the solution and rinse in fresh water. Use at room temperature.
Contains Hazardous Goods. Shipping restrictions apply. Ground shipping only to the Continental USA. Please call +1 315 946 1213 or contact us for rates to other locations.

Recommended Skill Level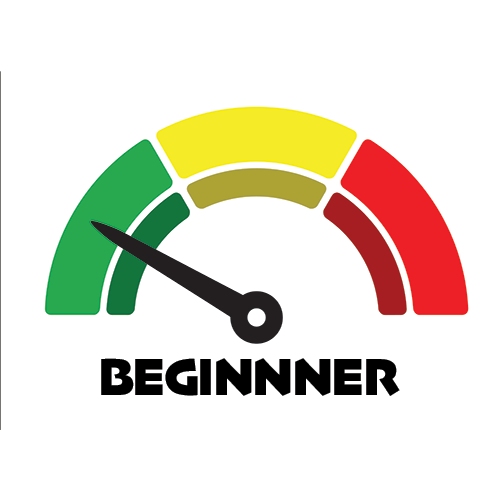 Beginner level products can and should be used by anybody, including those who consider themselves not crafty, handy or hands on. Most beginner level products can be used out of the box and can expect results within minutes. It is always important to read the product instructions and description on the web site before use, for example, nearly all of our plating kits require a polished and clean surface before plating.
Safety Information
Hazardous Shipping Info

GHS Info


SDS
Kits may contain more SDS than listed here. Contact us for details
Product Videos
Product Reviews
Works exactly as advertised, taking my restoration to a whole new level!! Thanks Caswell!!

So easy and fast. This stuff is by far the best. Everything came out great and looks like factory! U can't go wrong.

As a machinist, I need to add rust protection to nearly everything I make, like tool holders. I first tried Mark Lee's Bluing but was sadly disappointed in the blochy gray finish so I wire brushed it all off and redid everything in Caswell's Blacking. Wow, what a difference. The Blacking in uniform and much darker. I use Vaseline to finish the surface; it works much better than White grease.

I have been using this for about 4 years to get a great pakerized look on my knifes. I bead blast the blade and put it directly into the solution for 2 to 10 min. And it comes out looking great. Much better then powder coat. Poppa D's Workshop

Easy to Use, With Great Results

Followed instructions and finish is all I hoped for. Refinished some raw Mizuno Wedges. Prep was not too extreme and results were fantastic. A great product!

Black Oxide Concentrate/Black Oxide Kit

This product does exactly what it claims to do....Results are immediate....Depending on desired degree of blackness the user can manipulate/adjust exposure time to gain better result.s....It even works on hardened steel. Great product!

Excellent product at an excellent price!!!

I'm in the custom pellet-gun business and use this product to blue all of the steel custom parts I make or re-blue. It's a very forgiving and easy to use. Just make sure the steel is clean, saturate the part or soak it for a few minutes, wash it off with soapy water and oil it. Done, it's that simple, love it!

Clean well and dip for a great black finish.

Outstanding touch-up product.

Only used as touch-up for black oxide fisish. Performance superior to Brownells "T -4 Touch-up" at half the cost.
Important Information
Additional Equipment May Be Required
For Our Tank Plating Kits:
Copper Pipe for tank bar
Copper Wire to hang items
Small amount of electrical wire to make connections
DC Power Supply - Included In Some Kits. Check kit contents on web site
Optional Rinse Tanks (or rinse over the plating tanks with a water bottle)
Other minor household items may be required, such as gloves, water etc.
For Our Anodizing Kits:
DC Power Supply (Standard Kit Only)
1 Gal Battery Acid
Dyes (if desired)
Optional Rinse Tanks (or rinse over the plating tanks with a water bottle)
Other minor household items may be required, such as gloves, water etc.
Learn More Before Buying
You can purchase our Caswell Plating Manual and learn how to use the kits, before purchasing a kit. Simply Order Here. When you are ready to buy, we will discount the price of the kit.
Already Have Our Plating Manual?
If you are ordering a plating kit that contains our Plating Manual, and you already have our Plating Manual, you can remove it from all kits that contain it and save $30 per kit. Just use Coupon Code NOMANUAL in your Shopping Cart at checkout.