Product Description
The Look and Strength Of Real Chrome Without Environmental Issues or High Current Requirements
Buy This Kit If You Already Have a Nickel Plating Kit, or wish to convert from Triple Chrome to Reprochrome
®
Introducing REPROCHROME®, a unique Cobalt/Tungsten alloy that contains no chrome, nickel or toxic materials. REPROCHROME® duplicates a chrome plate in color, durability and corrosion resistance, without the need for a fume control system or a high powered rectifier. Safer and easier to operate than a regular chrome plating system. REPROCHROME® is not EPA or OSHA regulated.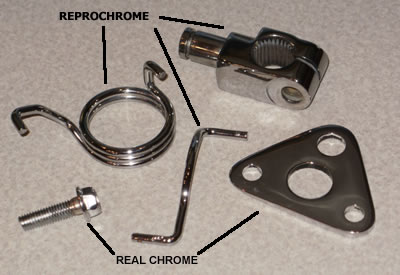 REPROCHROME® requires just 0.07 amps per square inch of part surface area to plate at approx 5V DC, instead of the 1-1.5 amps required of a regular chrome system, making plating larger parts a real possibility for small scale platers. REPROCHROME® has excellent throwing power and easily plates into recesses and low areas that regular chrome has trouble with. Get help choosing the right DC power supply here.
REPROCHROME® will plate directly over copper, brass, nickel and most ferrous and non-ferrous metals. However, for maximum shine and durability, we recommend using it in a Triple Plate system consisting of copper, nickel and REPROCHROME® plating steps.
The biggest requirement would be a DC power source, such as a plating rectifier. Because of the low amperage requirements of all these plating systems, even a smallish rectifier, such as our 25 amp model, will allow you to plate parts up to 2.5 sq ft in area (for example a valve cover) Get Help Working Out Part Surface Areas
You can also run the kits from a DC battery (car or motorcycle), battery charger, or other DC power source, provided you are comfortable building an amperage control device.
The typical steps to plate a steel part would be:
Polish part to a high shine
Degrease the part in the included degreaser
Plate with Flash Copper
Plate with Nickel
Plate with REPROCHROME®
4.5 Gallon Kit
1 x 6 Gal Plating tanks with lid
2 x 4" x 8" Stainless Steel Anodes
1 x 4.5 Gal REPROCHROME® Starter
2 x 4oz REPROCHROME® Brightener
1 x Filter/pumps
The Caswell Plating Manual
Free Technical Support
The included Caswell Plating Manual contains complete operating instructions for all systems, as well as extensive surface prep and restoration techniques.
The REPROCHROME® takes between 1-2 minutes to plate.
The REPROCHROME® system plates its metal from the REPROCHROME® solution. Additions of REPROCHROME® starter should be made periodically to replenish the metal and maintain uniform and consistent color. REPROCHROME® brightener additions should also be performed periodically at the rate of 0.4 fl oz per gal of starter (3ml per 1000ml)

Recommended Skill Level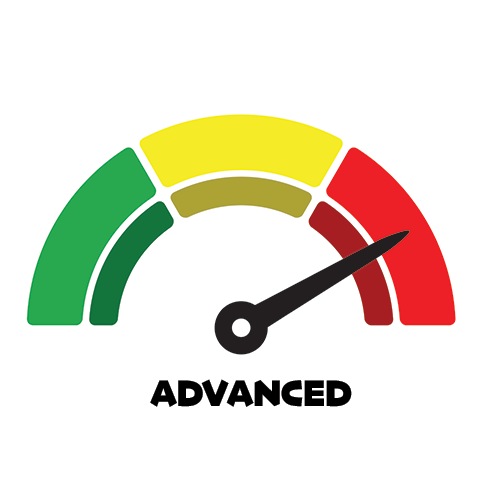 Advanced level products require multiple steps to achieve end results, such as conductive paints, or multiple cleaning steps. While many novice customers have used these products successfully in the past, we recommend some experience using easier processes before trying an advanced level product.
Safety Information
WARNING: Cancer or birth defects -
www.P65Warnings.ca.gov
Product Videos
Product Reviews
Important Information
Additional Equipment May Be Required
For Our Tank Plating Kits:
Copper Pipe for tank bar
Copper Wire to hang items
Small amount of electrical wire to make connections
DC Power Supply - Included In Some Kits. Check kit contents on web site
Optional Rinse Tanks (or rinse over the plating tanks with a water bottle)
Other minor household items may be required, such as gloves, water etc.
For Our Anodizing Kits:
DC Power Supply (Standard Kit Only)
1 Gal Battery Acid
Dyes (if desired)
Optional Rinse Tanks (or rinse over the plating tanks with a water bottle)
Other minor household items may be required, such as gloves, water etc.
Learn More Before Buying
You can purchase our Caswell Plating Manual and learn how to use the kits, before purchasing a kit. Simply Order Here. When you are ready to buy, we will discount the price of the kit.
Already Have Our Plating Manual?
If you are ordering a plating kit that contains our Plating Manual, and you already have our Plating Manual, you can remove it from all kits that contain it and save $30 per kit. Just use Coupon Code NOMANUAL in your Shopping Cart at checkout.