Product Description
Electroless Nickel Mini Kit (5 Pint)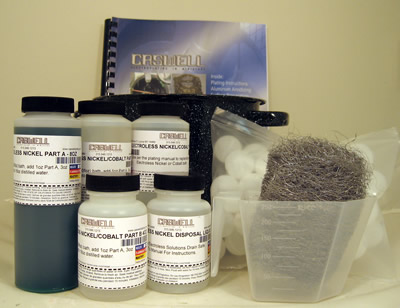 So Simple - Just Like Boiling an Egg
Mix Chemicals Into Included Glass Lined Tank, and place on stove top or hot plate.
Includes Thermometer
The Ideal Way to Plate Small Parts - Easily - Economically - Quickly
No Batteries, Rectifiers or Other Power Sources Required
Cyanide Free – No Fumes
Plates Many Metals - All Steels, Irons, Copper, Brass, Bronze, Lead Free Solders, and Nickel Alloys.
Even & Uniform Layer, Inside Tubes, Corners etc.
No Anode Shadow!
No Disposal Problems - Drain Safe After Treatment (included)
Mid Phosphorous 5%-9%
| | |
| --- | --- |
| Turn This: | Into This: |
* - Photos courtesy of Andrew Tuohy. Plated with Caswell Standard Electroless Nickel Kit
When electroless plating, you may not plate any item that has a surface area exceeding the maximum load of the bath. The maximum load is 30 sq. in./quart of plating bath. Refer to the table below
After making up the initial solution, each kit can be replenished with the included replenisher chemical, to a maximum of 10 times. After 10 times, the bath must be disposed and a fresh bath made. Based on the size of the kit, each kit will plate a certain amount of surface area. Refer to the table below. Replenishment chemicals can be purchased separately.
| | | |
| --- | --- | --- |
| Kit Size | Maximum Load (largest size part) | Approx Total Surface Area Available @ 0.0005" |
| Mini | 75 sq in. | 132 sq in. |
| Standard | 150 sq in. | 264 sq in. |
| Deluxe | 300 sq in. | 528 sq in. |
| Jumbo | 600 sq in. | 1056 sq in. |
Electroless nickel plating requires no anodes, power supply or electrical connection of any kind. The process simply entails mixing together some solutions, heating them to just off the boil, and then immersing the part to be plated. An auto catalytic electrochemical reaction takes place and the nickel is evenly deposited all over the part being plated. The thickness of the plate will depend on the duration of immersion. To stop the reaction, remove the part from the solution. 
Like all plating, the brightness of the plate depends on the brightness of the part before plating. The brighter the shine initially, the brighter the shine after plating. Numerous variations of the final finish are achieved by changing the surface preparation.

Electroless nickel plating is not new; it has many applications in industry. Because the system plates evenly over all areas of the part, even down tubes and holes, it is frequently used to plate firearms and small hand tools. For the motorcycle restoration enthusiast, electroless nickel is a great tool for evenly plating the air cooling fins on many engine blocks, particularly older Indians & Harleys.

Electroless nickel plates at an approx. rate of 1 mil (1/1000") per hour. Indoor decorative applications will need approx. 0.25 mil or 15 min. of plating. General outdoor items (hand tools, hand guns) should receive 0.5 mils or 30 min. Items requiring high corrosion resistance should receive 1 mils or 60 min.
As the baths are used, nickel depletes from the solution. You will need to replenish this periodically, using our unique method of calculating the nickel loss. Additions to the solution may be made with small quantities of Part A & Part C. 
This system will NOT plate pot metal. Plate with Flash Copper first. This system will plate aluminum if the metal is primed with Zincate first.
Mini Kit (Makes 5 Pints) Contains:
2 x 4 Qt Glass Lined Tank (8" diam x 6" high)
Thermometer
Mist Control Balls
Electroless Nickel Concentrate - part A 8 oz
Electroless Nickel /Krome™ Concentrate - part B 12 oz
Electroless Nickel/Krome™ Concentrate - part C 8 oz
END Plate out disposal concentrate 4 oz
2lb SP Degreaser
2 Steel Plate Out Pads
The Caswell Plating Manual
Free Technical Support

Safety Information
WARNING: Cancer or birth defects -
www.P65Warnings.ca.gov
GHS Info


SDS
Kits may contain more SDS than listed here. Contact us for details
Product Videos
Product Reviews
Haven't used it yet but the components look great

this kit is awsome and works as described. it really is easy to do just follow the instructions and have a calculator and you will love the results. i used this kit to learn now im going to the standard kit. if you want tough easy nickel plating this is the kit for you
Important Information
Additional Equipment May Be Required
For Our Tank Plating Kits:
Copper Pipe for tank bar
Copper Wire to hang items
Small amount of electrical wire to make connections
DC Power Supply - Included In Some Kits. Check kit contents on web site
Optional Rinse Tanks (or rinse over the plating tanks with a water bottle)
Other minor household items may be required, such as gloves, water etc.
For Our Anodizing Kits:
DC Power Supply (Standard Kit Only)
1 Gal Battery Acid
Dyes (if desired)
Optional Rinse Tanks (or rinse over the plating tanks with a water bottle)
Other minor household items may be required, such as gloves, water etc.
Learn More Before Buying
You can purchase our Caswell Plating Manual and learn how to use the kits, before purchasing a kit. Simply Order Here. When you are ready to buy, we will discount the price of the kit.
Already Have Our Plating Manual?
If you are ordering a plating kit that contains our Plating Manual, and you already have our Plating Manual, you can remove it from all kits that contain it and save $30 per kit. Just use Coupon Code NOMANUAL in your Shopping Cart at checkout.