Product Description
Cobalt Standard Plating Kit - 10 pint
Cobalt Plating Kit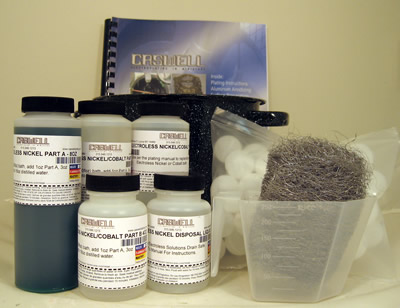 Looks Like Chrome - Not A Yellow Nickel!
Hard Like Chrome - Tougher Than Nickel!
Keeps Its Shine - Just Like Chrome!
One coat system - eliminates 2 steps!

No Batteries, Rectifiers or Other Power Sources Required

Plates Many Metals - All Steels, Irons, Copper, Brass, Bronze, Titanium, Lead Free Solders, and Nickel Alloys. Pot Metal with Flash Copper. Aluminum With Zincate Pretreatment.
Our Electroless Cobalt Plating Kit operates in exactly the same manner as our Electroless Nickel kits. The kit gives the plate a dazzling chrome look and imparts more hardness to the surface, without any hazardous materials. Applied to a previously polished surface and then buffed lightly, the finish will match most commercial chrome plated pieces.
When electroless plating, you may not plate any item that has a surface area exceeding the maximum load of the bath. The maximum load is 30 sq. in./quart of plating bath. Refer to the table below.
| | | |
| --- | --- | --- |
| Kit Size | Maximum Load (largest size part) | Approx Total Surface Area Available @ 0.0005" |
| Mini | 75 sq in. | 132 sq in. |
| Standard | 150 sq in. | 264 sq in. |
| Deluxe | 300 sq in. | 528 sq in. |
| Jumbo | 600 sq in. | 1056 sq in. |
After making up the initial solution, each kit can be replenished with the included replenisher chemical, to a maximum of 10 times. After 10 times, the bath must be disposed and a fresh bath made. Based on the size of the kit, each kit will plate a certain amount of surface area. Refer to the table below. Replenishment chemicals can be purchased separately.
We recommend electroless plating for small parts, or when plating inside tubes or heavily recessed areas. For larger parts, use our Reprochrome® system.
Standard Kit (Makes 10 Pints):
1 x 6 Qt Glass Lined Tank (11" dia x 7" high)
Thermometer
Mist Control Balls
Cobalt Concentrate - part A 16 oz
Cobalt Concentrate - part B 24 oz
Cobalt Concentrate - part C 16 oz
END Plate out disposal concentrate 4 oz
2 Steel Plate Out Pads
Measuring Cup
The Caswell Plating Manual
Free Technical Support

Safety Information
WARNING: Cancer or birth defects -
www.P65Warnings.ca.gov
GHS Info


SDS
Kits may contain more SDS than listed here. Contact us for details
Product Videos
Product Reviews
Great finish for old Tin Toys

Never used this before and it was a little confusing at first. I've now done several small lots of old toy train parts and the results are amazing. Initial surface prep and cleaning is essential. The kit comes with everything you need including pan and thermometer. I found that scotch brite pads work perfect for pre-cleaning metal tin plated parts.

I used a double boiler like the other reviewer mentioned and it worked well. I had a bunch of linkage arms and specialty hardware that had been run through a vibratory tumbler to remove the rust and give a bit of a polish. The nickle/cobalt plating resulted in a nice even finish. After a quick hit with the buffer it brightened up nicely and has a nice light gloss. A few of the pieces that had been polished smoother (prior to plating) almost look like chrome.

Safe (I hope) and simple kit. Excellent results.

In my own experience, the cobalt coating seems almost ideal way to protect metal surface. It is simple to use, looks very good ... I cannot tell it from chrome .. but cobalt does not rust and the plating is done in one shot. What I also like is that the solution is allegedly non-toxic. I treat it as if it were a poison, 'cause it contains a heavy metal, but the thought that it may not be as bad is comforting. This was my first plating I ever did. I made so many mistakes, see below. But at the end all my jobs ended well, the way I wanted them. My very first job looked almost right. But the part had unplated spots. Not having recommended degreaser, I used diswashing detergent and isopropyl alcohol after. But it was not good enough. Now I use hot Simple Green for 15 min, rinsed with distilled water spray. Works every time. In my next job I wanted to build a layer to get desired thickness of the part. I plated the part with cobalt, but I could not get enough or plating thickness, at first. On second attempt I hang the part on 1/16" iron wire that was welded to a 1" steel rod 4" long. The Idea being to have more electrons available to do the plating, as the part itself was tiny. I also kept the temperature just near boil. I got too much layer! 0.004". I am not sure if the extra iron did the job or was it the higher temperature. This of course was not a big deal, since I could grind the excess off. In my next job, again I was fixing another part adding a layer of cobalt. Job was fine, except that I covered the shank of the part with a piece of bicycle inner tube. I did not want it to be plated. When I pulled the part out, I could not understand what was I looking at ... the rubber inner tube was nice and shiny, all plated with cobalt! But the part was right otherwise. By the way, I am not using the provided heater, I just use an old pot with water to give me a jacket of boiling water. The plating solution with the part in it is in Erlenmeyer flask. This works well because the plating should happen near boiling temperature.
Important Information
Additional Equipment May Be Required
For Our Tank Plating Kits:
Copper Pipe for tank bar
Copper Wire to hang items
Small amount of electrical wire to make connections
DC Power Supply - Included In Some Kits. Check kit contents on web site
Optional Rinse Tanks (or rinse over the plating tanks with a water bottle)
Other minor household items may be required, such as gloves, water etc.
For Our Anodizing Kits:
DC Power Supply (Standard Kit Only)
1 Gal Battery Acid
Dyes (if desired)
Optional Rinse Tanks (or rinse over the plating tanks with a water bottle)
Other minor household items may be required, such as gloves, water etc.
Learn More Before Buying
You can purchase our Caswell Plating Manual and learn how to use the kits, before purchasing a kit. Simply Order Here. When you are ready to buy, we will discount the price of the kit.
Already Have Our Plating Manual?
If you are ordering a plating kit that contains our Plating Manual, and you already have our Plating Manual, you can remove it from all kits that contain it and save $30 per kit. Just use Coupon Code NOMANUAL in your Shopping Cart at checkout.